Status Display
The Jobs Listing, in addition to facilitating Job navigation and selection, also provides information regarding Job status.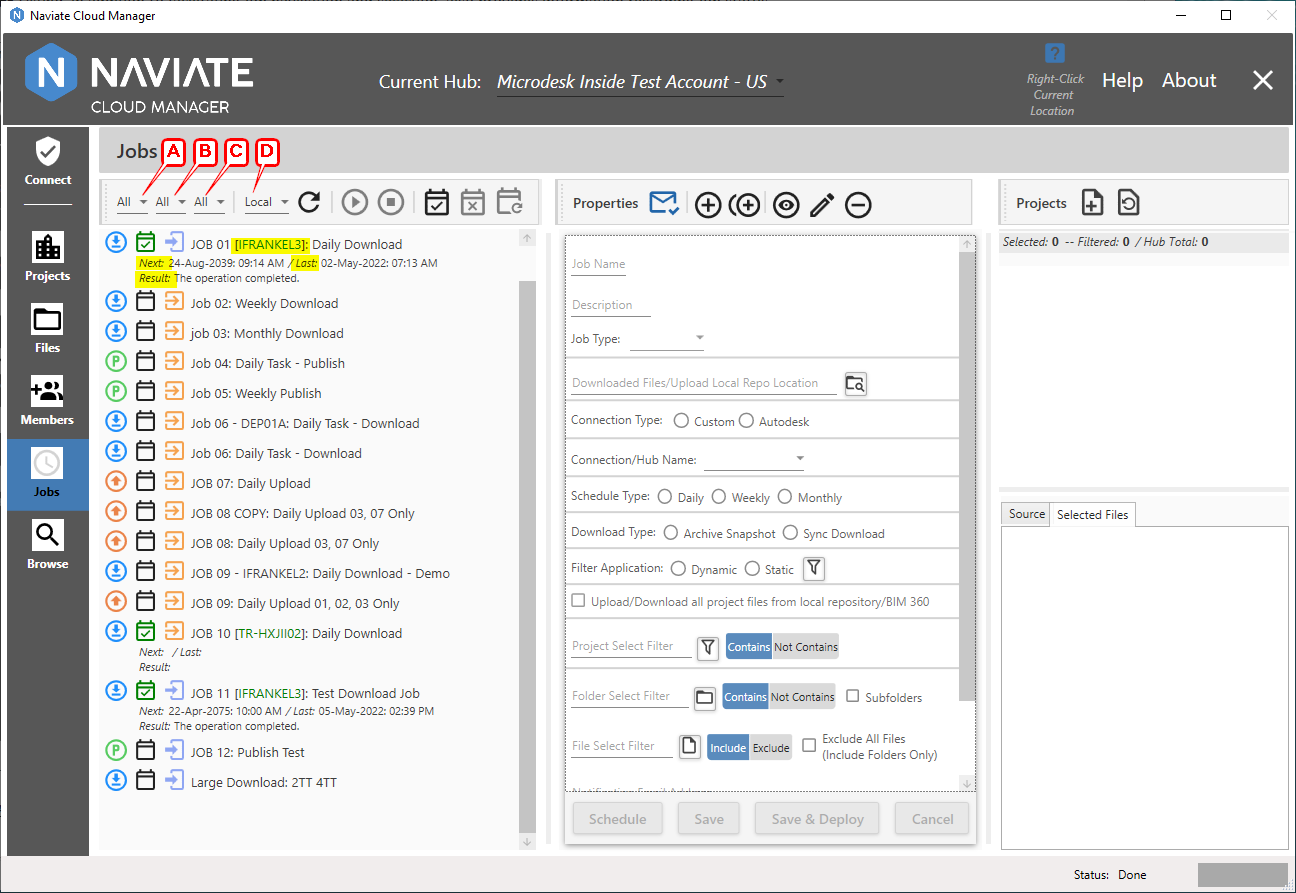 The Job Type Filter A, Server Filter B, and Connection Type Filter C control which Jobs are displayed. The Server Location Refresh Filter D controls which server location categories — local, remote or none — have their status data refreshed.
The following icons and informational fields provide Job status information. The Job Type Icon and Deployment indicator display for all Jobs, both deployed and not deployed. The Next run date and time, Last run date and time, and last Result status only display for deployed Jobs.
Job Type

Icon

Upload

/

Download

/

Publish

/

Export

/

Token Refresh

—

This icon is located in the left column and indicates the

Job Type.

It displays the same regardless of whether the Job has been deployed to the Scheduler or not.

Deployment Status

Icon

Deployed /

Not Deployed

—

A checked green calendar in the middle column indicates the Job has been deployed to the

Windows Task Scheduler

. When the icon is the normal black and unchecked, it indicates the Job has not yet been deployed.

Connection Type

Icon

Custom Connection

/

Autodesk® Connection

—

Located in the right column, this icon graphically displays the type of connection the job uses.

Server Name —

The Server name is shown in green between brackets, right after the Job name and before the Job description.

Next —

The next scheduled Job run date and time.

Last —

The most recent Job execution date and time.

Result —

Task Scheduler Job status. When a newly deployed Job has not yet run, this is stated as such. Otherwise, the result of the most recent run is displayed — success, failure due to xxx, etc.